Magnetic drums and tape drives. Floppies, CD-ROM, zip disks, and USB. And now of course, the cloud. For as long as we've been computing, we've also been searching for newer, better, and more secure methods to store data. And yet, data remains vulnerable, at risk of compromise, breach, and loss. Because just as tech gets more advanced, hackers get smarter — putting everything from top-secret intelligence to your family photos in jeopardy. That's why it's more crucial than ever to safeguard important data. And what better time than the present?
In 2022, more than 422 million individuals were affected by data compromises, including data breaches, leakage, and exposure. 1
March 31 is World Backup Day
First celebrated in 2011 and observed annually on March 31, World Backup Day encourages individuals and organizations to back up important data and files to help ensure they're protected against loss or corruption. The day aims to raise awareness about the importance of data backup as well as the potential consequences of not having a backup in place. It's no coincidence that World Backup Day falls one day ahead of April Fool's Day, when pranksters and hackers are known to prey on unsuspecting targets.
Even with a solid data storage and security strategy in place, the potential for loss remains, and the consequences dire.
Data loss can occur due to various reasons, such as hardware failure, malware or virus attacks, accidental deletion, or theft.
Losing important data can be a major setback for individuals, businesses, and organizations, as it can result in lost productivity, financial losses, legal consequences, or reputational damage.
Having a backup in place is essential to ensure that data can be recovered quickly and efficiently, minimizing the impact of any loss or damage.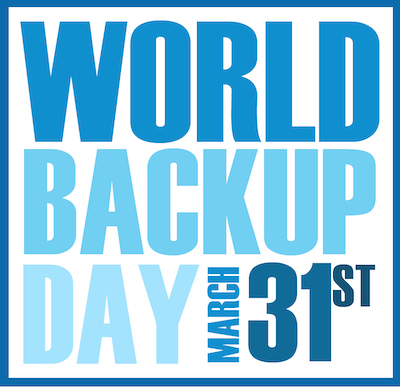 How to seize the [backup] day
By observing World Backup Day, you're both setting an example and demonstrating the importance of protecting data by creating regular backups, securely storing them, testing backup systems regularly, and more.
The first, most obvious thing you can do is to backup all your critical data today. Next, establish and keep to a regular backup schedule. Examine your current backup methods and systems — are you backing up often enough? Are you using redundant methods? Is your preferred method secure? — and adjust as needed.
And finally, consider making training in backup-related disciplines like cloud a standard practice for your teams. Training is an important but oft-forgotten element in data protection strategies. Employees should understand the importance of data protection, be aware of their role in helping facilitate it, and be skilled in backup-related procedures and secure storage.
Why not start today? Take a moment on this World Backup Day to explore the wide array of cloud-related resources available for all your training, exam prep, and certification needs.